Family Weekend FAQ
---
Please continue to visit this page as more events and details will be included.
Are there any events that require tickets?
Yes, the Family Weekend Tailgate, the football game, and the Park and Ride Pass all require a pre-purchased ticket/pass to attend the events or use the shuttle service.
Is there an ECU Pirates Football game during Family Weekend?
Yes! The ECU Pirates will be playing Gardner-Webb in Dowdy-Ficklen Stadium on Saturday, September 23, 2023 at 6:00pm.
What type of football ticket should I purchase?
ECU Family Weekend Ticketing Options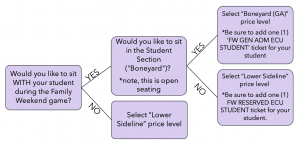 Please Note:
Your student's ticket is free of cost
You are allowed to purchase up to four (4) discounted tickets, any additional tickets will be full price
If you select to sit WITH your student, your student's ticket will be emailed to YOU!
Children 2 years old or younger do not need a football ticket. They will be expected to sit in their parent's lap.
If I buy tickets at separate times will the seats be together?
If you opt to purchase general admission tickets, then your tickets will be in the student section of the stadium along with your student's free ticket or Student Pirate Club pass.  As this is open seating you may sit with whomever you like in the General Admission Section.
If you purchase reserved seat tickets (students included), then you will be assigned a row and seat numbers for each ticket in your order.  We will not be able to add additional reserved seating together for separate orders.
Do I need to purchase a ticket for my ECU student to sit with me at the game?
ECU students have the opportunity to receive a FREE student ticket or have their Student Pirate Club (SPC) pass to use at the Family Weekend game. These tickets are good for the student/SPC section of the stadium (The Boneyard). If you choose to purchase General Admission tickets, then your purchased tickets will be in the student/SPC section along with your student. Please note the student/general admission section is open seating.
For Family Weekend ONLY students will have the option to use their free student ticket to sit with their family in the Reserved section seating. If you would like your student to sit with you in the reserved section, please indicate this on your order form. This ticket will be in lieu of their student section ticket for the September 25, 2021 game only.
Please note that upon ordering your football tickets, you will be required to provide your student's Banner ID.
What is Student Pirate Club?
The Student Pirate Club is a student-run booster organization for East Carolina University Athletics and is an arm of the East Carolina Educational Foundation (Pirate Club). The focus of the Student Pirate Club is to involve ECU students in an excitement based organization that is committed to supporting and promoting all ECU athletic programs. Students make an annual donation of $50.00 and will be given access to electronic tickets that they may print out or download to their phone that will allow them to sit in the SPC section (The Boneyard) for all athletic events free of charge. For additional information, please visit: www.studentpirateclub.com.
Can my student still join the Student Pirate Club?
Registration began in April and will run through early August. Please sign your student up as soon as possible in order to avoid having them miss out on being involved in one of the largest student organizations in the country! You can register at www.studentpirateclub.com.
Can I exchange my tickets at a later time?
Before placing your order, please discuss which section you would like to sit in with your student(s) and the rest of your family and friends attending Family Weekend. With the popularity of Family Weekend and the football game, seats will be very limited and exchanging your tickets is not an option. 
Are refunds available?
Unfortunately, with the heavy volume that encompasses Family Weekend and a number of events that are planned based on the number of tickets sold, all tickets are non-refundable. Due to the nature of event planning and coordination, refunds will not be offered, in full or in part, due to weather.
Is there a seating chart online to show me where my football game seats are?
A 3-dimensional seating chart with seat view is available by clicking here.
Are there different ticket prices for youth (12 and under)?
For this particular football game, there will be no youth prices offered for tickets. Please keep in mind that all bodies entering the stadium (including small children) require a ticket. Only children 2 years old or younger do not require a football ticket. They will be expected to sit in their parent's lap.
How will I receive the tickets that I purchase?
All football tickets will be sent digitally via email as either Print-at-Home or mobile delivery. This includes your student ticket, if you have selected to sit WITH your student. If you have questions about your football tickets. please reach out to the ECU Athletics Ticket Office by calling 252-737-4500 or by email at AthleticTickets@ecu.edu.
All Family Weekend Tailgate tickets, and Park and Ride passes will be mailed to the address customers provide with their order, unless otherwise specified. If you have ordered tickets and not yet received them, please contact the ECU Central Ticket Office at (252) 328-4788.
What items are not permitted into the football stadium?
Athletics has adopted a new clear bag policy – read more here. In addition to clear bags only, no umbrellas, artificial noisemakers, alcoholic beverages, flags on poles (banners must be approved by calling 252-737-4531 by 5:00pm Thursday prior to the game), outside food or drinks, and coolers are not permitted into the football stadium. Strollers are not permitted in the stands but fans may check them at the customer service booth across from the club/upper deck elevators inside Gate 2. Additional information on stadium policies may be found on the athletics website.
Is parking available at Dowdy-Ficklen Stadium and for the Family Weekend Tailgate?
The parking lots surrounding the football stadium are reserved for season ticket holders that purchase the spaces and tailgate packages for the entire season. A Family Weekend shuttle will be operating on game day. Parking passes are per vehicle. The Family Weekend Park and Ride Lot will be located at the medical campus off 5th Street behind ECU Health Hospital.
After the game, shuttle buses will continuously run, picking up on 14th street, across from Gateway Residence Hall.  Families wishing to park in the Family Weekend Park and Ride Lot must pre-purchase a $15.00 parking pass to be used on September 17, 2022.  Further parking information can be found at the athletics website.
What activities are there to do in Greenville with my student and family?
We've compiled a list of fun activities in and around Greenville for visiting families to enjoy! Check it out here.